"What is it that holds you accountable when you're tempted to do the wrong thing and there's no one around who would really care if you did something that doesn't align with your values?" We're in the kitchen, snacking. Eli leans against the counter, crunches another bite of chips. Isaiah retrieves a container from the refrigerator, then turns to me.
"You know the letter Dad wrote me?" Zae pauses to open the lid and reaches in for a chicken strip. "Well, whenever I get tempted, I just take that letter out of my wallet and glance at it. Or, sometimes, I just remember it's in my pocket and that helps me."
A letter of affirmations. From his dad. To remind him who he is.
~~~
This man that I married 18 years ago *today...
Several years ago we attended the wedding of some friends. Pastor Joe addressed the bride first, admonishing her from Ephesians 5. Then, he turned to the groom, saying his name and stopping for a dramatic pause. He smiled at the groom, mischievously. The audience chuckled in anticipation.
"Your bride is going to follow your leadership. Now for your role. You're going to love her like Christ loved the Church... And that will mean that you're going to die to yourself in a thousand little ways every day." It was a lighthearted moment loaded with meaning.
And, LeRoy... Well, he does this dying to self "in a thousand little ways every day." And it really is in the little things, isn't it?
A look, a phone call, a word of encouragement and support, a listening ear. The cup of coffee he brings me first thing in the morning. The camaraderie and inside jokes. The knowing wink across a room.
Gratitude:
118. Message at the front desk of the resort, "Mrs. Olson, your husband called. He says 'Happy Anniversary.'"
119. That my sweet husband sent me off on a weekend women's retreat at a resort in Garmisch and then planned an all-out "party weekend" with some other dads and all the children.
120. For the father that LeRoy is to our boys-becoming-men and his growing-up-girl.
121. The way that LeRoy lives out his leadership.
122. Learning love.
123. Being loved.
124. Learning to follow and how LeRoy makes the journey a grand adventure.
125. 18 years.
126. The anticipation of being in LeRoy's arms by this afternoon.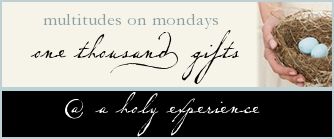 *November 20th.